Digital Assets Technologies AG goes FINTECH GERMANY AWARD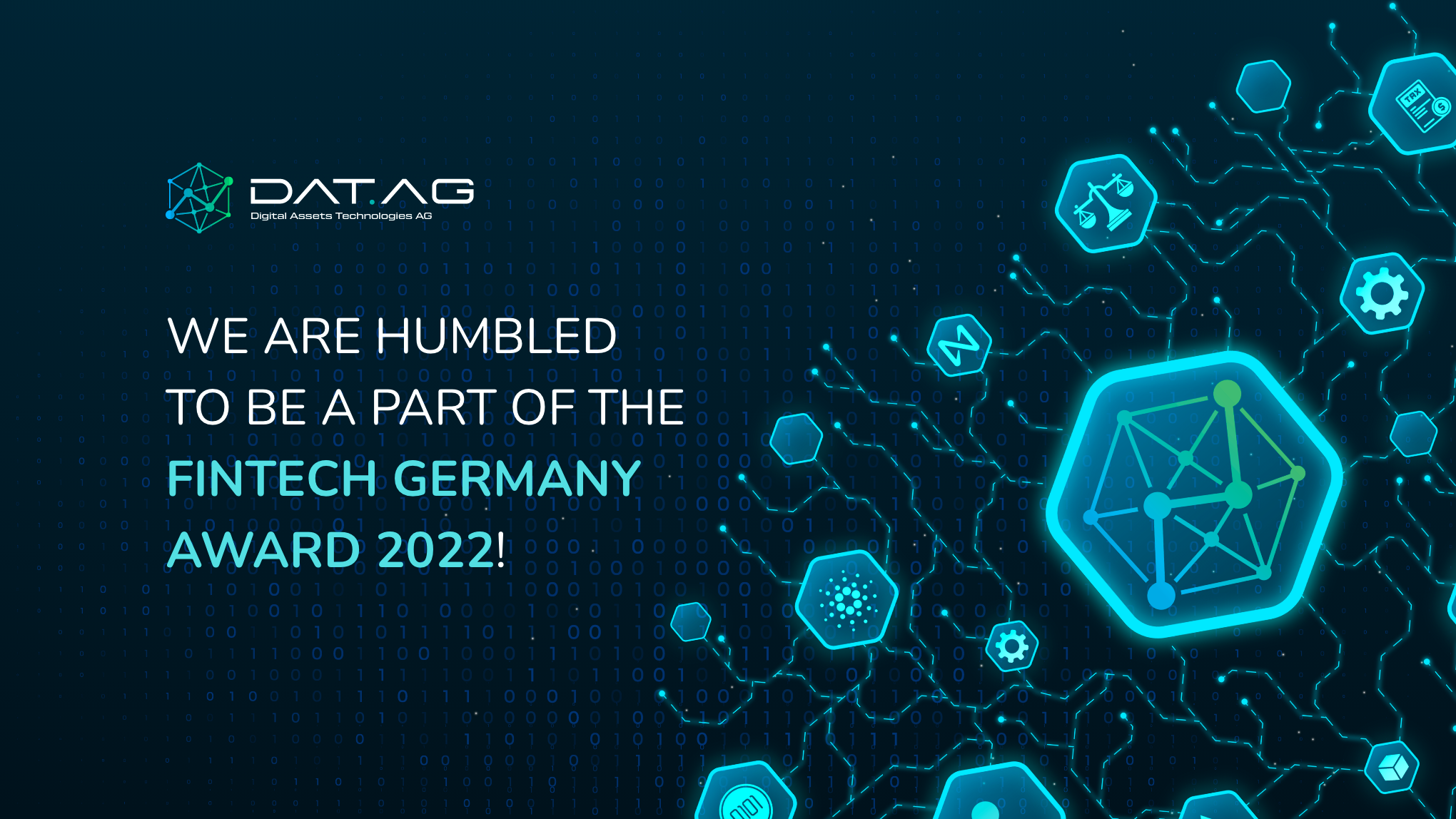 Already for the 7th time the award of the leading award for Fintech companies in Germany takes place, where currently 77 innovative start-ups from the Fintech sector can be found on the longlist.
We are very pleased to represent not only Switzerland, but also the blockchain ecosystem, which already produced numerous winners last year. More than 20 renowned representatives of the German fintech community will present the awards in a total of eight categories: In the four categories along the financing stage
(seed, early, late and growth stage)
as well as in the award for foreign startups. The second and third places will be chosen
on
stage in addition to the respective winner too. The various startups from the areas of
fintech
and
insurtech
are evaluated in their individual company phases according to a variety of different criteria. Based on a scoring process, the jury then determines the leading startups in each category during the final jury meeting and determines the winners, who are then announced at the awards ceremony. There were also special awards in the last year, for example, in the fields of
Insurtech
and
Investtech (Investment Technology)
, as well as for startups that have made special achievements in the field of
Sustainable Finance.
Blockchain ecosystem dominates the fintech scene
The blockchain ecosystem in particular also produced a large number of the winners in recent years. It is not for nothing said that the future of the financial industry will be a distributed ledger-based future. The awards themselves are somewhat more traditional, because in addition to the actual award, the winners also receive a "Challenge Cup" in the form of a pair of gold-plated pipe wrenchs as a symbol of the jury's "heckling" of the applicants or their founders.
Data analysis and Big Data
With
DAT BLUE
, the DAT.AG presents a unique solution for the accounting of digital assets such as cryptocurrencies. In doing so, DAT.AG sees itself as a leading start-up in the analysis and processing of blockchain Big Data, a task of increasing significance; for example, there have been more than 730 million transactions on the Bitcoin Blockchain alone since its introduction in
2009
. A sheer immense amount of data, which must be processed somehow. With
DAT BLUE
, we have created a first-of-its-kind solution for the real economy that is designed to provide accountants and trustees in particular with an accurate data set - a task of the highest complexity. The Fintech Germany Award was created in 2016 on the initiative of Frankfurt Main Finance e. V. (publisher of the paper of the
Frankfurter
Stock Exchange), the WM Group and TechFluence. It is the leading award for fintech companies in Germany. In the past, the award winners included established start-ups such as Clark Germany, N26, Scalable Capital, Weltsparen/Raisin, Wefox or Wise (formerly Transferwise) but also younger fintechs such as Authada, Awamo, Liqid, Hawk AI or Penta.