DAT BLUE goes Marketplace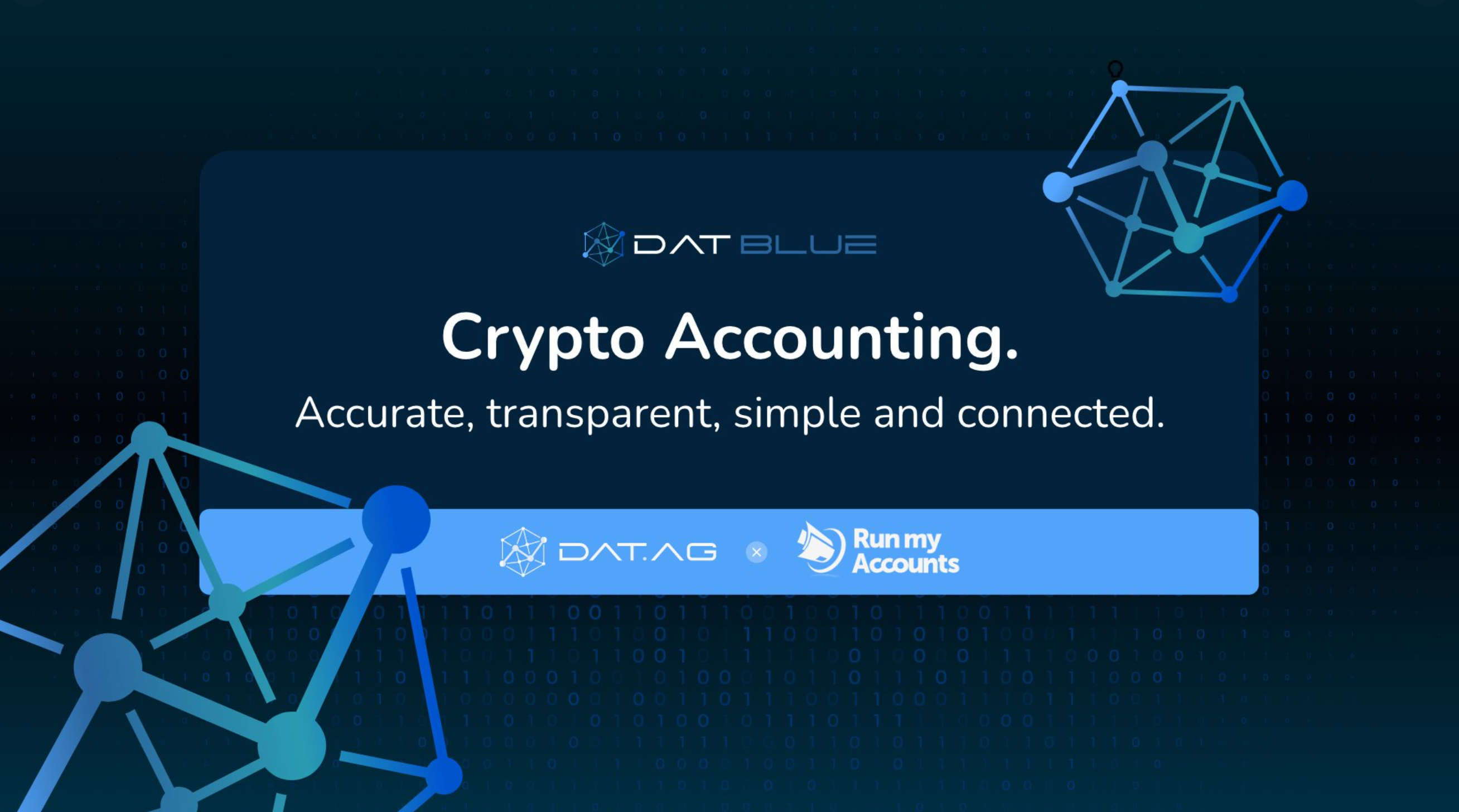 Accounting Solution for Cryptocurrencies & Digital Assets
Accurate and easy accounting of cryptocurrencies and digital assets is enabled by DAT BLUE, which can now be found in the marketplace of Run my Accounts , one of the leading Swiss accounting software providers. This means that Run My Accounts' more than 6,000 customers can now benefit from the possibilities of accurate accounting of cryptocurrencies or digital assets. After already being able to offer a cooperation with DAPAY for a solution of payment transactions in cryptocurrencies, the next step is now accounting.
Open Interfaces
This is made possible thanks to the open interfaces offered by Run my Accounts. So, Run my Accounts' online accounting software can be connected to the DAT BLUE crypto accounting solution via a special API. This interface integration is currently still under development and can soon be used by all customers who wish to obtain the corresponding software solutions.
This will provide customers with a dashboard solution that will simplify what was previously a highly complex challenge. Our Crypto accounting solution is easy to process and use. The users can benefit from advantages like :
Accounting of digital assets such as cryptocurrencies.
Easy integration of various wallets via public key.
Support for numerous blockchains such as Bitcoin, Ethereum, Polkadot, Polygon and many more.
Numerous reporting options such as P&L, balance sheet and more.
Various API interfaces to connect Exchanges, etc.
Connection to the ESTV to ensure accurate price data.
Listing of all transactions up to the Genesis Block.
Highest possible security - DAT BLUE does not store any personal data and does not require private keys or similar.
How it works
DAT BLUE makes it possible to manage crypto assets with ease and create an accurate accounting:
DAT BLUE collects all the transactions a user has ever made.
It indexes them and adds pricing information and other external historical data, ensuring clear and easy readability through the intuitive dashboard.
Classifications can then be made and relevant data submitted to Run My Accounts.
DAT BLUE provides all transaction data from any connected wallet and enables various reports such as P&L - or tax reports. By connecting to various Exchanges, BLUE provides financial records and rate data directly from the source where customers have made their transactions.
Competent & Professional Partners
With Run my Accounts, we have found a competent and professional partner for the successful accounting for successful companies. Accounting of today must be up to date on a daily basis, meaningful and accessible from anywhere to become a factor of success for the company! With the special online accounting software of Run my Accounts and the extensive possibilities of DAT BLUE, we offer the perfect symbiosis for outsourced accounting without having to resort to complicated accounting masks. Together, we offer comprehensive reports and functions to help you manage your business. DAT BLUE is the accounting solution for professional accountants, trustees, tax offices, entrepreneurs and companies that want to do their own accounting. Manage all your clients at once or do accounting for your own business through our cloud solution.
By the way, payment transactions in crypto are not complicated either. Find out now about the possibilities of crypto accounting in the dream team of Run my Accounts and DAPAY!