Germany FinTech Award 2022 – We are coming!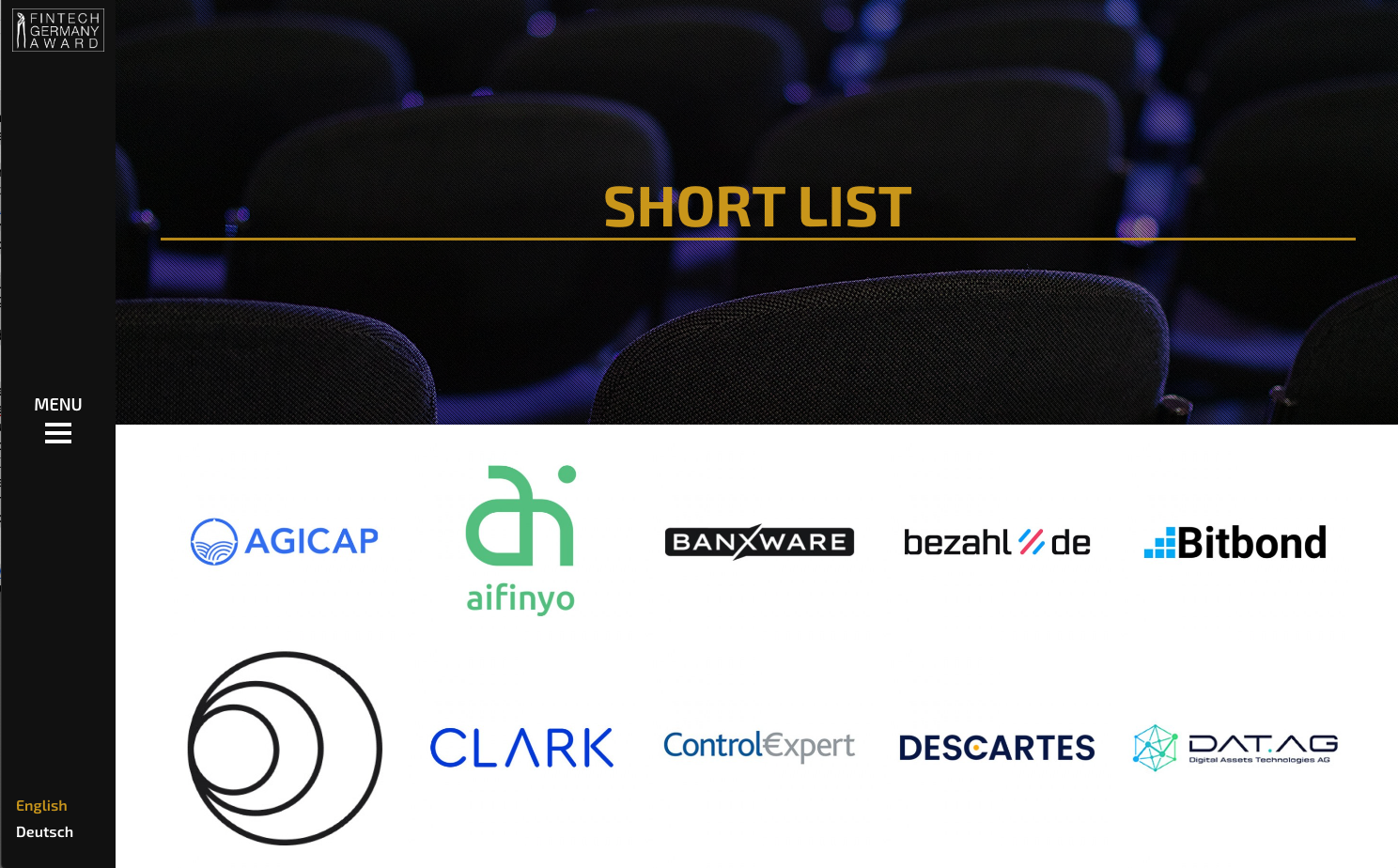 Back on October 25, 2022, we happily reported our participation in the FinTech Germany Award and the associated placement on the award's longlist.
Now we have been rewarded with the next round alongside 36 other outstanding FinTech companies. This means that we have been awarded with a place on the
shortlist
and thus among the top40 German Fintech companies as well as the best Fintech companies from other German countries. On 07 December we now have the opportunity to present not only our company but also DAT BLUE, our unique Swiss crypto accounting solution. We are very happy to represent not only Switzerland, but also the Blockchain ecosystem, which has already produced numerous winners last year. We are very pleased to represent not only Switzerland, but also the blockchain ecosystem, which already produced numerous winners last year. The various startups from the areas of Fintech and Insurtech (Insurance Technology) are evaluated in their individual company phases according to a variety of different criteria. Based on a scoring process, the jury then determines the leading startups in each category during the final jury meeting and determines the winners, who are then announced at the awards ceremony. There were also special awards in the last year, for example, in the fields of Insurtech and Investtech (Investment Technology), as well as for startups that have made special achievements in the field of Sustainable Finance. With
DAT BLUE
, we have created a first-of-its-kind solution for the real economy that is designed to provide accountants and trustees in particular with an accurate data set - a task of the highest complexity. However, the application possibilities of DAT BLUE are even more extensive and complex, because DAT BLUE offers more than just data sets for accountants. Rather, it is an infrastructure that is capable of not only processing huge amounts of Big Data, but primarily indexing and preparing it in order to be able to provide users and customers with the data that is relevant to them in a tailored manner, as automated as possible with the least amount of effort. This makes DAT BLUE probably the only Swiss solution that enables accurate data handling and can be integrated into numerous classic accounting systems such as Abacus. For the customer, this offers a range of applications that no system on the market currently has in its portfolio. The Fintech Germany Award was created in 2016 on the initiative of Frankfurt Main Finance e. V. (publisher of the paper of the Frankfurter Stock Exchange), the WM Group and TechFluence. It is the leading award for fintech companies in Germany. In the past, the award winners included established start-ups such as Clark Germany, N26, Scalable Capital, Weltsparen/Raisin, Wefox or Wise (formerly Transferwise) but also younger fintechs such as Authada, Awamo, Liqid, Hawk AI or Penta.